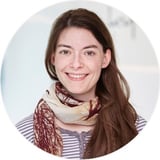 HOW SUSTAINABLE ARE TEXTILES? - A COMPARISON USING THE HIGG MATERIAL INDEX
'What impact does my product have on the environment?' Both customers and manufacturers are now asking themselves this question increasingly frequently. But first, the potential impacts must be defined, those relevant identified and the environment affected established.
It is best if a product's sustainability is quantifiable and readable at a glance, of course. The Higg Index offers a comprehensive, and equally comprehensible, solution to this. As a recognised standard, it offers customers and manufacturers a sustainability benchmark for the entire supply chain of clothing, shoes, and other textile products such as carpets.
Here you will find an overview, or you can go directly to the comparison of different materials' sustainability:
1) What does sustainability actually mean?
2) What are the environmental impacts?
3) Sustainability along the supply chain
4) The development of a comprehensive sustainability index
5) Measurable sustainability for products, facilities, brands and materials
6) Environmental dimensions of materials sustainability (Higg MSI)
7) Which materials are the most sustainable?
8) Choosing the right material
1) What does sustainability actually mean?
The word is on everyone's lips, but what actually is sustainability? Beginning with the word's actual meaning – 'long-term' or 'lasting' – sustainability now has a primarily environmental focus. In this context, sustainability is understood to mean not taking more out of a system than can be regenerated. A classic example – not cutting more wood down in a forest over a given period of time than can grow back. In this sense, it is sustainable not to disturb the natural system's functioning.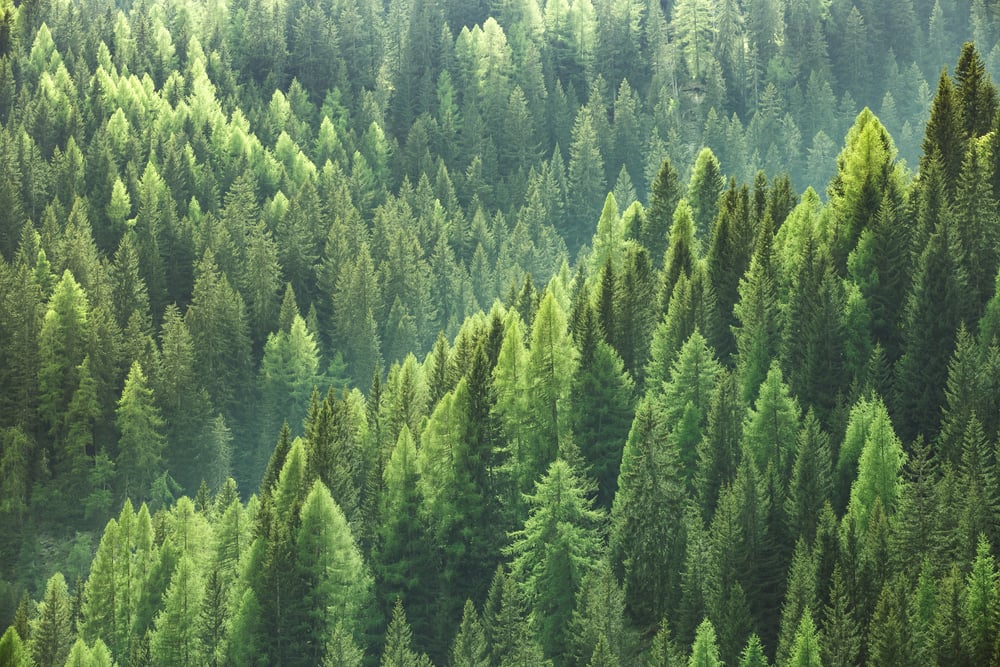 2) What are the environmental impacts?
When you think of environmental pollution, as an end consumer or product designer, you often have the immediate, visible environment in mind. That means cities of smog, polluted rivers and plastic in the sea. What is less visible are the indirect factors. These could be over-fertilised soil, as well as things that don't have to be related exclusively to the 'natural' environment. After all, it is not only nature that impacts us humans, but also social systems and working conditions. In any case, none of these complex systems exists in a vacuum; everything interacts with each other, especially when it comes to the environment.
3) Sustainability along the supply chain
Thus, a sustainability index should then also cover various dimensions. In line with this, new supply chain laws have been passed in many European countries in recent years. Here, there is an increasingly evident focus on corporate due diligence in relation to both up- and down-stream production stages. This is because both working and production can have a major impact on the environment when a product is created. The Higg Index's aim is to make this measurable.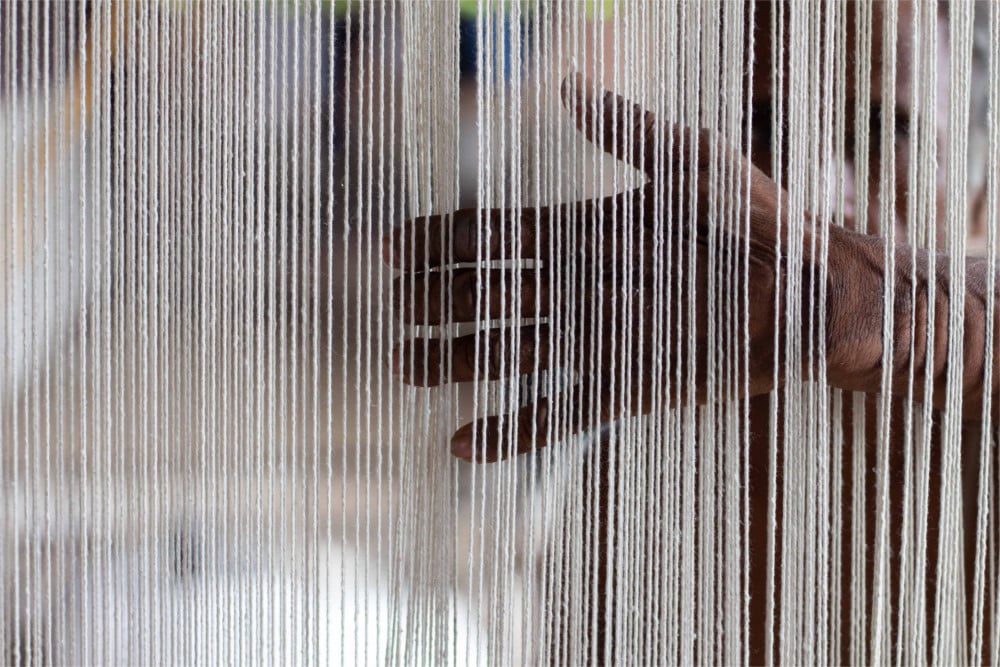 4) The development of a comprehensive sustainability index
The Higg Index emerged from an initiative by the Sustainable Apparel Coalition, a non-profit organisation with various important representatives from the industry, such as Salomon and Patagonia, manufacturers like Lenzing and Lycra, as well as alliances like TÜV and WWF.
With more than 250 members, the Sustainable Apparel Coalition comprehensively and internationally represents all stages of the supply chain. Realised in its first form in 2011, the Higg Index integrates the older Eco Index, but has been continuously expanded and revised since then. The latest extension explicitly includes a tool on social sustainability and working conditions.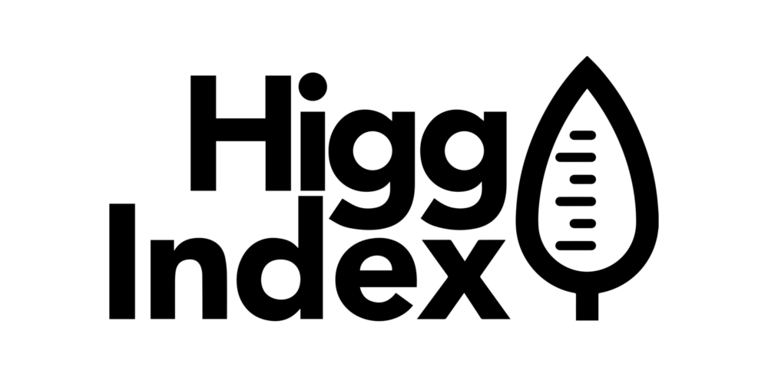 5) Measurable sustainability for products, facilities, brands and materials
Based on the Higg Index, the Sustainable Apparel Coalition offers different tools for quantifying the environmental sustainability of individual factories, their social sustainability, the evaluation of entire brands and product lines, and the assessment of materials.
The latter is particularly important for product development, as it gives product designers an early indication of the impact the materials they decide to use will have on the product's environment rating. Product designers will definitely benefit most from a looking at the Higg Index when choosing between materials that fulfil the required properties equally.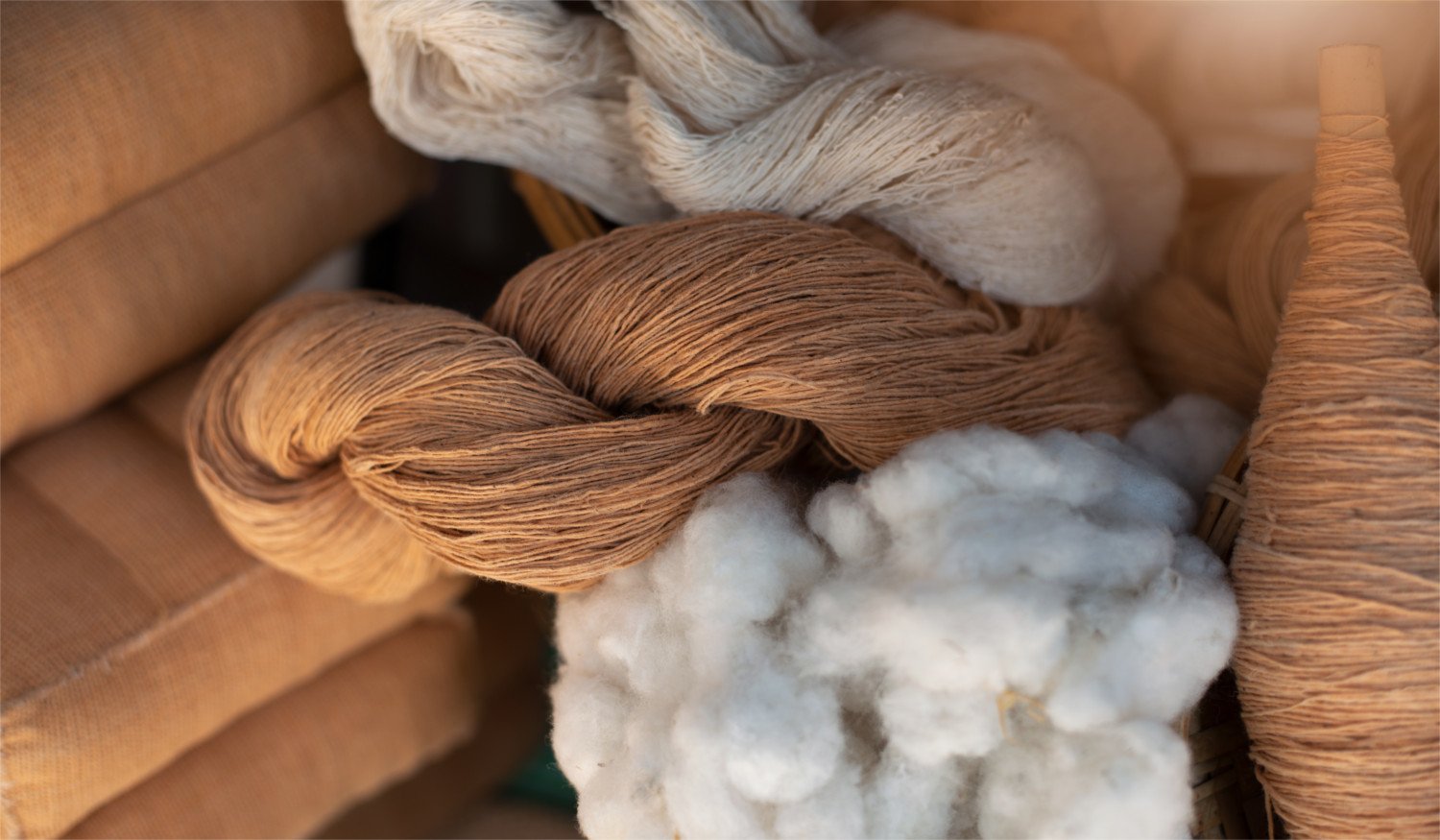 6) Environmental dimensions of materials sustainability (Higg MSI)
The Higg Index specifically for materials includes the dimensions of chemical impacts, fossil fuel consumption, water scarcity, over-fertilisation of water bodies (eutrophication) and contribution to global warming. The MSI assesses the material from its cradle to the point where it is ready to be assembled into a product (cradle-to-gate).
Other tools are available to quantify the sustainability of a complete product until it is recycled (cradle-to-cradle) or destroyed (cradle-to-grave). However, it is important to note that composites may not be able to be separated and thus recycled. So for each product, it also depends on the combination of materials and their respective processing.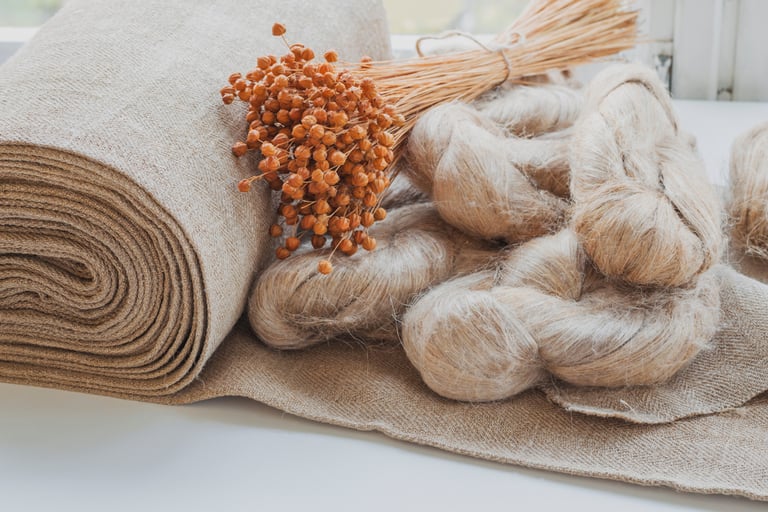 7) Which materials are the most sustainable?
A look at the Higg Index throws up many surprising results. When it comes to textiles, the comparison between classic materials, such as wool, linen, cotton, polyester and viscose is especially interesting. Some less common, alternative materials – Lyocell, Modal, hemp fibre and the increasingly popular organic cotton – were evaluated too.
Fascinating to see is conventional cotton's considerable environmental impact caused by high levels of water consumption during cultivation in dry regions. The over-fertilisation of water bodies also has a strongly negative impact on the cultivation of cotton, but even more so on the cultivation of flax for linen and hemp when measured by kilogramme of fibre obtained.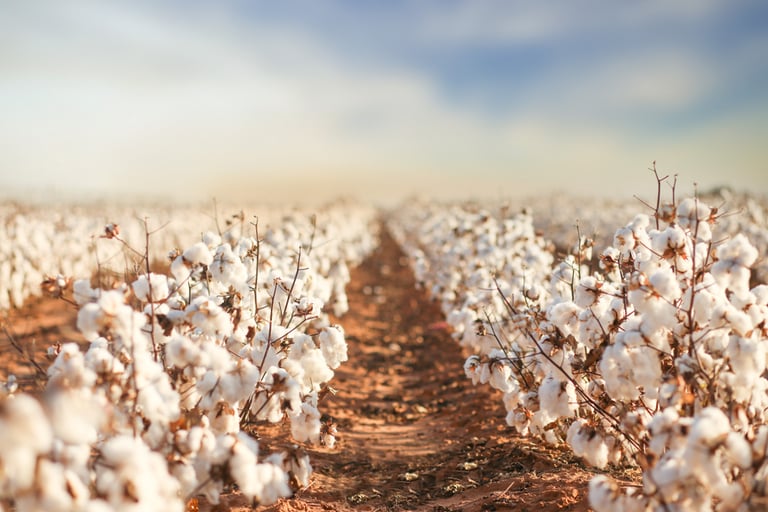 Itself a natural, renewable material with many excellent properties, sheep's wool uses significantly less water than conventional cotton, linen or hemp fibre. According to the Higg Index, however, it contributes more significantly to global warming. Nevertheless, it still achieves a better ranking than conventional cotton and hemp fibre.
In fact, viscose, polyester (PET) and polypropylene (PP) achieve significantly better results than commercially available cotton. Production of polyester and polypropylene in particular requires very little water consumption. Of course, the use of fossil resources is the biggest factor for the Higg Index, but this can be significantly reduced further by using recycled PET – from plastic bottles, for example.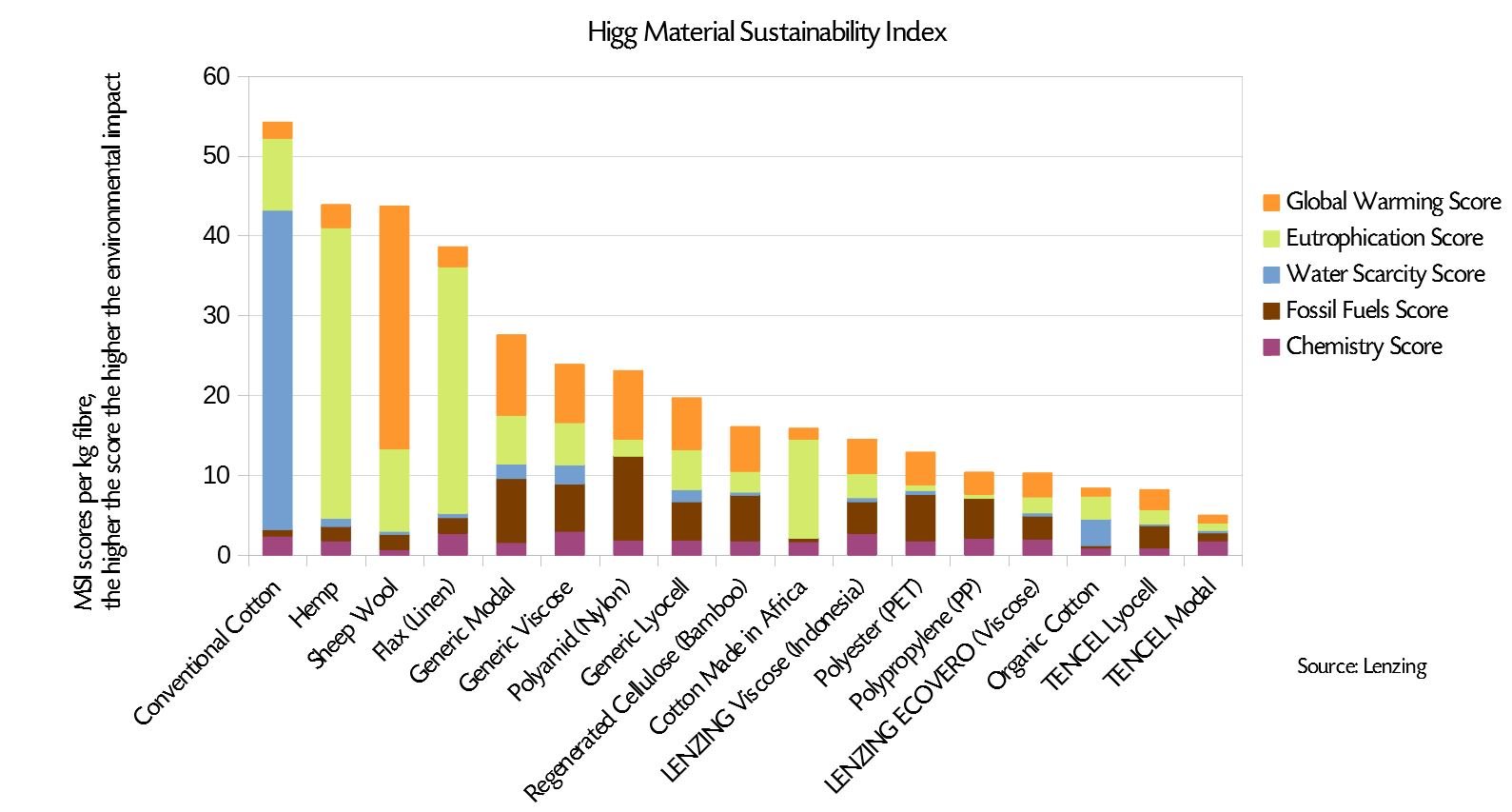 For many, this comes as a definite surprise: natural fibres, even organic cotton, score worse than the regenerated cellulose fibre TENCEL™ Lyocell, which comes from wood. By having a low impact on the climate, water and soil, TENCEL™ is thus the clear winner among sustainable textiles according to the Higg Index. Read more about the production of TENCEL™ here.
8) Choosing the right material
When selecting the right material, attention must always be paid to its properties, of course – the silky texture of TENCEL™ and viscose is certainly desirable for many products but may not be suitable for more robust uses, for example. Depending on the use case, opting to use sheep wool for example may ultimately prove more sustainable than a more delicate material with a better Higg Index, whose shorter life span then requires it to be replaced more frequently. Particularly in the case of textiles used outdoors or in damp rooms like kitchens and bathrooms, synthetic fibres PET and PP perform well against the Higg Index and in their resilience and water-resistance.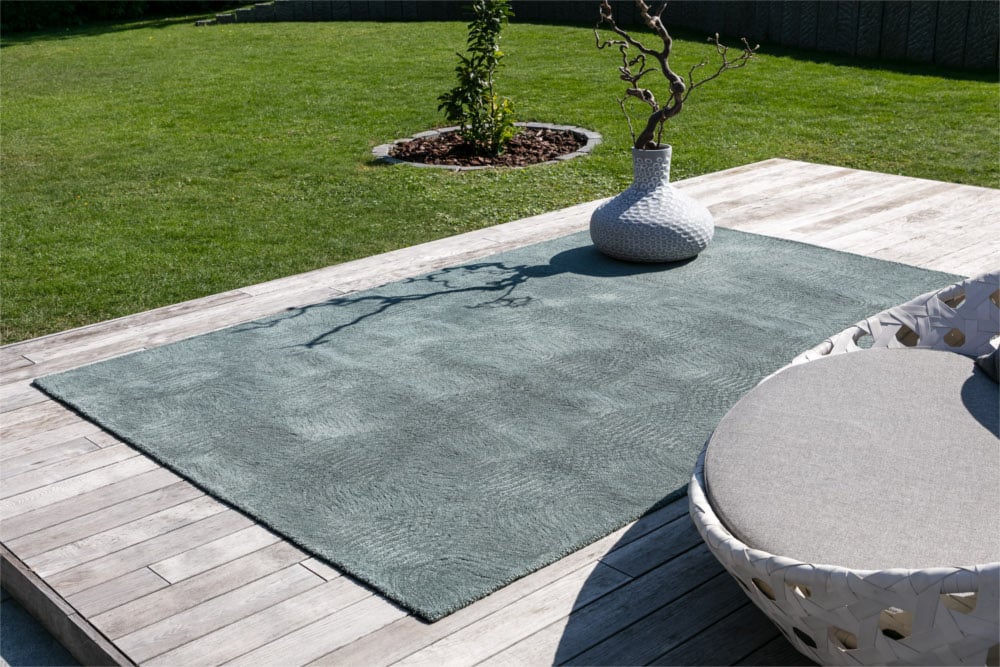 As a designer or customer, the material you ultimately choose always depends on the application. However, comparing sustainability considering the Higg Index can help with the decision and make environmental impacts more transparent. If you have any questions about the perfect carpet and the right materials for all living or working areas, your experts at kymo are always happy to help!
Images:
Wongle Sanae (1 & 5)
Zli Kovec (2)
Dushyant Gupta (3)
Sustainable Apparel Coalition (4)
Sergey Avgustinovich (6)
Megan Betteridge (7)
N. Kazakov (8)
Interior Design
technically
Materials
Trend
Sustainability